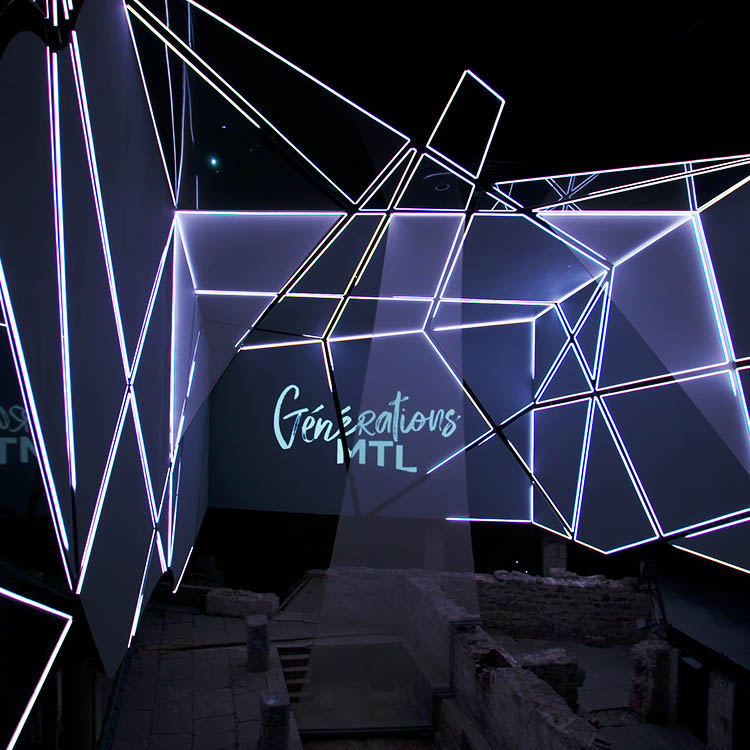 Concept
Research and script
Visual and sound processing
Direction
Shooting
Motion design
Visual editing
Sound mixing
Set design, construction and assembly
Technical direction
Launch
Studio LEX, Eltoro Studio, 20K, Troublemakers
POINTE-À-CALLIÈRE, MONTREAL ARCHAEOLOGY AND HISTORY COMPLEX
In time for the 2019 tourist season, TKNL and its creative partners delivered a brand new show for the Pointe-à-Callière Montréal Archaeology and History Complex. Generations MTL is a spectacular multimedia production that chronicles all of the watershed moments of Montréal's history through the eyes of the people who helped build it.
True to character, TKNL brought the very best local creative talent around the table to bring this project to life. Its precious partners, Studio LEX, Eltoro Studio, 20K and TroubleMakers, injected their own brand of magic to the concept developed in partnership with Pointe-à-Callière.
​Young and old are invited to begin their visit by immersing themselves into these fragments of history, exploring new and exciting perspectives on our great city!
The scenography, especially when it came to creating a work of art in this atypical venue, and the complex technology we used made this a tremendous creative challenge we embraced with gusto!
Pierre Ménard
Producer, TKNL